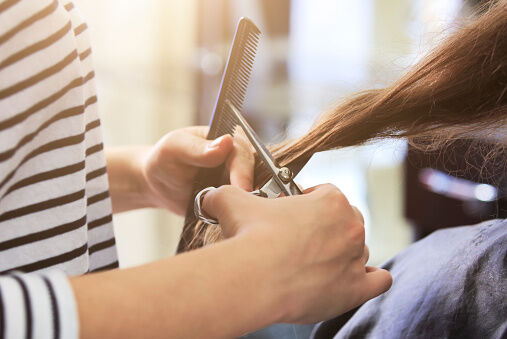 Well it isn't news that hair loss is a common thing. But should you be worried if you're losing too much at once and what should you do to fix the situation? I remember losing hair in my hands in the shower and, of course it scared me to see globs of strands in my hands or even brushing my hair daily... I started taking vitamins and that helped tremendously! But here's the thing, not everyone is good at remembering to take their vitamins like I was at the time either. Yahoo gives a little more insight on the number of things it could be for you...
First things first, Anabel explained that hair loss is a very common problem for women – much more so that people realise. "Research shows that at least 1 in 3 women will suffer from hair loss or reduced hair volume at some point in their lifetime". So if you are losing strands, it's important not to freak out, your mane willrecover. In the meantime, here's everything you need to know...
Firstly, there are different types of hair loss, genetic and reactive...
Genetic:
There's a chance you're genetically predisposed to hair thinning, which means you may see a progressive, gradual reduction in hair volume. "In these instances, certain hair follicles are sensitive to male hormones – and this sensitivity causes follicles to gradually shrink and produce slightly finer and shorter hairs with each passing hair growth cycle." Explains Anabel.
Reactive:
This means your hair loss is the result of a trigger. "Excessive daily hair shedding (which is know as telogen effluvium) is not reliant on having a genetic predisposition, it occurs as the result of an internal imbalance or upset, such as a nutritional deficiency, severe stress, crash dieting or an illness" says Anabel.
7 most common triggers of hair loss...
A hormonal imbalance can lead to multitude of annoying AF health and beauty issues, fromadult acneto weight gain. If your hormones are out of whack the effects will radiate throughout the whole body (and of course, that includes your hair).
"Hormones play a huge role in regulating the hair growth cycle" explains Anabel. "Oestrogens (female hormones) are 'hair friendly' and help to keep hairs in their growth phase for the optimal length of time. Androgens (male hormones) are not very hair friendly, and can shorten the hair growth cycle."
"An excess of androgens (which could be caused by an endocrine disorder, such asPolycystic Ovarian Syndrome) can cause hair loss. The extent of this is often down to genes - If you have a genetic predisposition to follicle sensitivity, a hormonal imbalance can affect your hair more than it would someone who does not have a predisposition."
It's no myth that excess stress canliterallymake your hair fall out. How does this happen? Well, it can raise androgen (male hormone) levels, which in turn can causes hair loss. "Stress may also trigger scalp problems, such as dandruff, disrupt eating habits and mess with the digestive system – all of which can have a negative impact on hair" says Anabel. "One of the most common causes of hair loss in women is an iron deficiency. Iron is essential for producing hair cell protein", without it, your strands will suffer.
"The thyroid gland helps to regulate the body's metabolism by controlling the production of proteins and tissue use of oxygen. Any thyroid imbalance can therefore affect hair follicles", Anabel explains. Also, if hypothyroidism is left untreated it may result in anaemia, which - as we've just discussed - isanothercondition that can impact the hair(or lack of it).
A lack of vitamin B12 can leave you feeling tired and low on energy, sound familiar? Well, the fun doesn't stop there, it can also take it's toll on your hair...
"Vitamin B12 deficiency often causes hair loss as it can affect the health of red blood cells, which carry oxygen to your tissues" says Anabel. "It's most common in vegans as you can primarily only obtain B12 through animal proteins."
It all makes sense now... MORE INFO CLICK HERE!